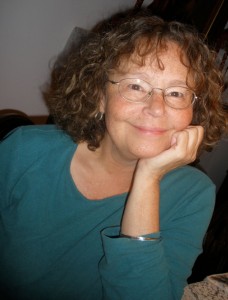 I have been teaching knitting on the national level now for more than twenty-five years! I look back on these years with feelings of wonder and gratitude. I am doing things I never imagined possible — I have developed a network of friends, students, and colleagues that span the continent and the world, writing about knitting, creating and marketing my own line of knitting patterns, and even financially supporting myself and my children (when they were still at home with me) with what I love to do — teaching knitting!
I remember that when I was seven years old, I felt a burning desire to learn how to knit.  I don't remember having seen someone knitting, but I must have at some point. It seemed as though it took me forever to locate a woman who could teach me. I asked my mother, my mother's friends, and the ladies at church to no avail. But I also remember the day my mother told me that the lady on the corner could show me how to knit. I was ecstatic! The day of my first lesson I skipped down to her house. All I can recall now is that she was Persian and taught me to knit English style. Cast-on, knit, purl. That was it.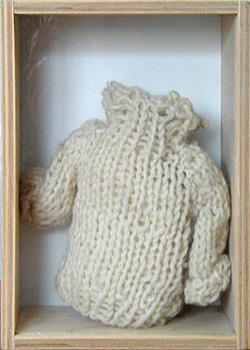 It must have been at Christmas that I received a Barbie Knitting Kit. It was a tall purple cylinder for holding your needles, and the top had a hole in it which you could thread your yarn through so it would feed easily. And there were instructions. Here is my first sweater I ever made. My gauge was too big, the back was longer than the front, so I hemmed that part up. The sleeves were too long and it hung like an unlikely dress. This sweater has been through two sisters after me, cramming it on various Barbies. My mother never throws anything away.
The next step in my education was hitting the yarn shop after school, spending my allowance on needles, various wondrous knitting gadgets, yarn (I always have preferred wool) and a Columbia Minerva book How to Knit. From this, I learned to increase and decrease and cable and work different stitch patterns. When I was nine, a distant relative from Switzerland came to visit and knitted a sweater for my Mom in a couple days! I was astounded. She taught me to knit Continental, as well as the purl I now call the "Norwegian Purl".
In my teens, I branched out into teaching myself crochet, macramé, sewing clothes (and even some fringed and beaded hippie boots), quilting, and fundamental basket weaving. By my mid-twenties, I was obsessed with spinning, weaving, and vegetal dyeing.
In 1981 I opened a yarn shop with two other women with start-up capital of $900. I taught spinning and knitting there, and never made a profit, but gained invaluable knowledge in the three years we all limped along.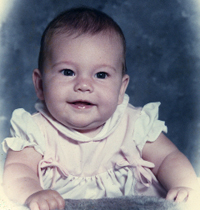 At this point in my life, I was married, had my seven-year-old son Jorn and my brand-new daughter Chloë, and we lived in Maryland, having come back "home" after trying out San Diego and Oregon. I was beginning to design sweater kits to sell my handspun yarns and I was exhibiting in craft shows. Then, one weekend in October 1984, we four went camping in Virginia and Chloë died that first night of SIDS (Sudden Infant Death Syndrome).
This incredible loss served to teach me a lot about myself, compassion for myself and others, and about courage. I designed a dress for my little girl that she would never wear as my grief work. It was so healing to knit that dress!
And of course having my last two children, Jerod and Chelsea, healed me most of all.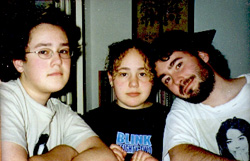 Where I had been timid before, I suddenly knew that nothing worse could ever happen to me again, and I was able to accomplish tasks which would have daunted me previously. Soon I was designing more and got a position teaching knitting at the local community college. I began to study knitting and developed a workshop on Ganseys. I did a test run on my Knitting Guild and then sent off a workshop proposal to The Knitting Guild of America. They accepted my class and soon I was teaching for them every year. My workshop grew into my book Knitting Ganseys, and drawing upon the rich world history of knitting, I have developed more workshops. I have been to Scandinavia numerous times now to research knitting there, and hope to continue to travel to expand my knowledge of this most exciting field.
In 1995, I opened up a mail order business, Knitting Traditions, for traditional knitters, featuring authentic yarns for historical garments, books, patterns, and other fun stuff. Teaching and running a business left no time for my family, and I was thrilled when my friend Karen Frisa agreed to work in the business with me. Karen and I enjoyed our customers and had a good time too! But, at the end of 2001, with my divorce looming, we decided to close the mail order portion of Knitting Traditions. Karen has since moved to the west coast and I to Vermont, but we still see each other sometimes at fiber events.
I feel so blessed to be doing what I am doing — working with knitters, teaching techniques which enhance their pleasure of their craft and which inspire them to challenge themselves with their chosen projects. And I am ever mindful that I could not be doing my work if it weren't for you, my dear students, yarn shop owners and guilds. I am so very grateful for your support.