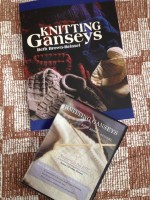 Save $5.00 by ordering both the DVD and book of Knitting Ganseys!
This DVD covers the history, construction, and designing process of these wonderful 19th century seamless fishermen's sweaters from the British Isles. Follow along with Beth as you knit a small sampler sweater to learn all the construction techniques: the classic Channel Island Cast-on, split overlapped welts, seam stitches, initials, traditional motifs, underarm gussets, the perpendicular shoulder join, neck gussets and more!
Learn the principles of designing a gansey. There is also a beautiful gansey pattern included to download, exclusive to this DVD! There are also other documents to download: an alphabet for knitting your initials into your gansey, instructions for making the sampler, and for designing.
You can view an introduction to the DVD on You Tube.
The book Knitting Ganseys has been termed a classic, in print for almost twenty years! It covers the history of the original seamless fishermen's sweaters of coastal England and Scotland from the 19th to early 20th centuries. Knit a small sampler sweater as you read through the book to learn the historic techniques that made these sweaters so long-lasting, practical, and beautiful. Techniques include: the Channel Island Cast-on, underarm gussets, split overlapped welts, the perpendicular shoulder join, neck gussets, traditional motifs and seam stitches. Lots of clear black and white photographs illustrate the numerous techniques.
In addition, there is a full chapter on designing that explains every step of the way, from measurements to charting. For those knitters who don't want to try their hand at designing just yet, there are six designs included, three for adults, three for children.
If you would like either the book or DVD (or both!) autographed, please send the name or names the items should be signed to. Also, please note that Beth is often out of town teaching and will mail your order as soon as possible.