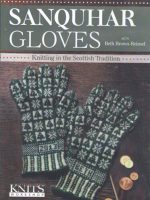 Sanquhar glove knitting began in Scotland in the late 1800s.  Many patterns have been created for this fascinating glove, but the layout and architecture remains the same.  This DVD takes you on a step-by-step knitting journey to make a pair of Sanquhar gloves from cuff to fingertip.
The gloves are covered with special details including personalized cuffs and three-dimensional fingers, but the designs are surprisingly simple. With Beth's guidance, you will learn how to knit Sanquhar gloves:
Plan and swatch your gloves
Create a comfortable fit
Customize the cuff pattern
Master colorwork for a polished look
Knit thumbs and fingers to fit
Design your own Sanquhar-style pattern
The run time is 74 minutes.
Click here to purchase this DVD from my Etsy shop.   The cost is $24.99 plus shipping.
If you would like to purchase this DVD with yarn for making my pattern Winter, which is included on the DVD and is pictured on the cover, choose my Etsy listing Winter Sanquhar Gloves Kit.