Earlier…
I am beside myself with ecstacy! I spent the day working, instead of doing the 4th of July thing. Chapter three is off to the editor. Now I think I will go knit something useless. My brain needs a break.
I have been thinking about the kitchen door. It leads to the outside and half of it is glass. And while I am going through a period of No Curtains In My House, my daughter feels uneasy at the lack of privacy. So I rounded up all my handspun non-wool yarns from two lifetimes ago. Some of it is deliciously spun, and some is almost nasty. It's a survey of my spinning abilities, you might say. I love to dabble, that's for sure, because there's not enough of anything to do something with it. Hmmm, unless I combine a bunch together with some other exotic skeins I've picked up here and there.
Some of the skeins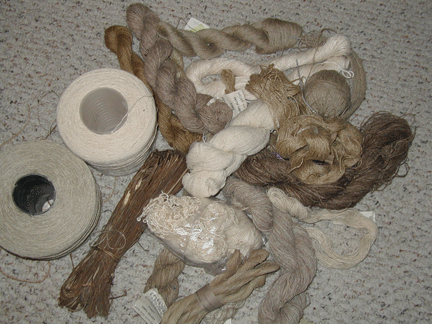 So I envision this curtain, very organic in nature and shape, in hemp, a hemp-cotton blend, aloo from Nepal, bleached and unbleached linen, cotton, jute singles, Ramie boucle and singles I made, gorgeous brown ramie singles and something that looks like twigs (hemp bark) that I got from Habu Textiles. Now, this may get finished AFTER I move out of this house, but ya never know. Anyway, what if I made layers, each one being as much as I can knit from each skein until it runs out? I could make different lengths, different surface patterns, edge treatments, different widths… It may end up looking awful, but I am intrigued enough to try.
So, about the Hair Shirt, or, the more modern word cilice… Actually hair shirts are pretty grim and gruesome uncomfortable things worn for penance, usually made from goat hair (no, not mohair). I spun some goat hair one time and it was not something to cuddle up in! One of my curtain panels reminded me of a hair shirt. This is my first panel and I used a two-ply linen yarn I spun in the '80s, I think. It looks so pathetic lying there, unblocked. But I have a great vision!
Unblocked: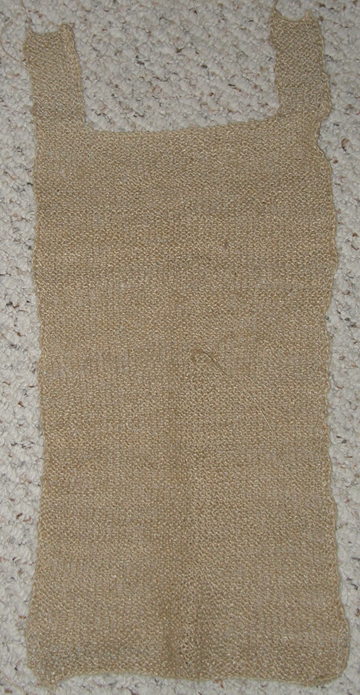 And later….
I just got back from the TKGA conference in New Hampshire and while I was there, I saw Takako (from Habu Textiles) and bought another skein for my hair shirt, um, curtain. It is called Kenaf and is from Africa. It looks and feels a lot like jute or linen tow, but it is bee-you-tee-ful!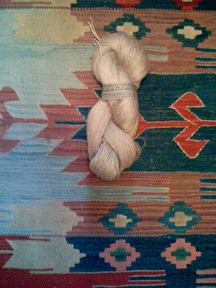 So if anyone is interested, the background of the last photo is a section of my Turkish (as in I Went to Turkey) Rug. It is so lovely, even the part I spilled red wine on. And to think I thought twice about it because of the cost. I am so happy now that I splurged. I have such good memories of that day.