I am preparing for next month's filming of my DVD on Ganseys.  In addition to writing the script and keeping my hands looking reasonably nice (going through tons of hand cream!), I am knitting up the samples for the shoot.  This entails knitting about nine versions of the gansey sampler from my book, at various stages of completion.  I did this long ago before the photography session for my book and then tossed all those samples, as I figured I'd never need them again!  Oh well.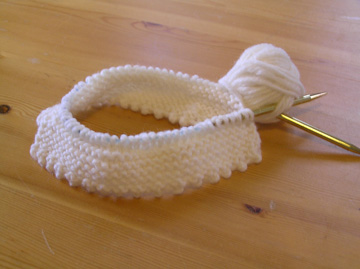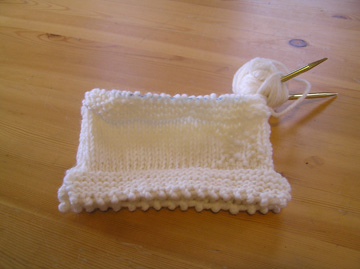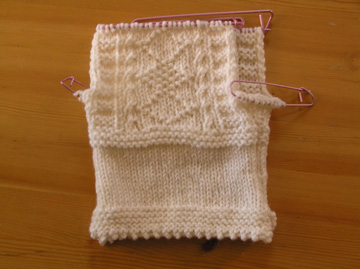 Those of you who have taken my gansey workshops can attest to the fact that there are MORE ENDS in this little sweater than any other knitted thing.  So you can imagine that much of my time is being spent sewing all those ends in so everything looks nice and neat.  Almost done…
I am also working on a pair of color twined-knitted mittens for Dye Dreams.  They have a mitten club and a sock club.  I got to choose which yarn I wanted to work with and Mona and Stephanie dyed it in yummy colors to my preferences!  The yarn I am using is so soft and alluring that it's such a pleasure to knit with.  The motif I chose for the mittens is a Swedish motif seen on sweaters in the 19th century.  I have seen it called a "Carnation" but it looks like a Morning Glory to me!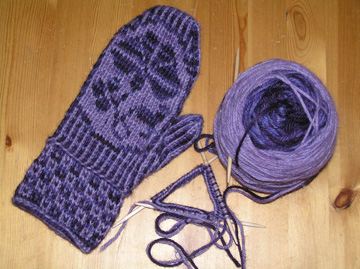 Note the ball of yarn–the two colors are wound in a ball, first one color then the other, so that I can work with one ball as is the tradition in twined knitting.  I have been having a lot of hand pain and thought it would take me quite awhile to get through them, but in two days I had one mitten done!
Earlier this week, my dear friend Marilyn King of Black Water Abbey Yarns came to visit me and we had a grand time, eating and knitting and talking about knitting and planning knitting stuff…  She was working on a new pattern of a hat and scarf that is SO CUTE (and manly, too)!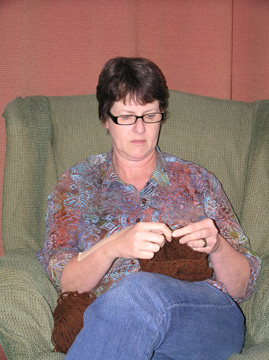 Friday she drove off to the Cape to teach a workshop while I hopped a plane to Minneapolis to teach at Yarnover.  Such a fun event!  There were almost 400 students there this year and LOTS of teachers and vendors.
Tomorrow I will teach at the Yarnery in St. Paul.  Then I fly home to do laundry and repack for Stitches South.  It's a crazy schedule but I am not bored that's for sure!