I know I have been pretty quiet for a while.  Well, after I sent off the November email newsletter, my precious iBook died. Forever.  It went into DOS mode and said "PANIC!" in five languages.  I cried.
If this has happened to you, you know the drill: scramble to retrieve all your data (which I mostly had backed up), shop for a new computer (can I afford it–can I NOT afford it?), finally GET the computer, realize all your software is now obsolete, shop for new software (no, I REALLY can't afford it, but have to get it anyway), install it all, start the steep learning curve, realize that  all 8,000+ photos that have been recovered are now totally disorganized, that the data in Quickbooks is… mostly…there.  Sigh.  I am still not back to normal.  But I'm getting there.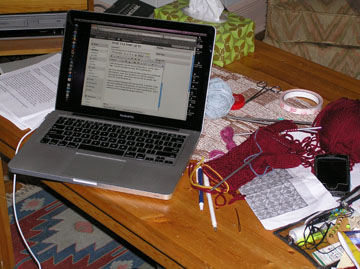 There she is–what a beauty!  My new MacBook Pro.  It's a total pleasure working with her.  When I Skype my brother in Germany now, he can actually see me.  And now I can stream Netflix movies instead of waiting around for them to come by mail.  Note my coffee table in its usual disarray.  This is where I do most of my designing and knitting. (My living room is WAY warmer than my office in the winter.)
For awhile I thought I had lost all the videos I took while in London, on the cruise, and in Newfoundland, but I found them hiding in my hard drive.  I will blog about the last two trips at some point.  I know I am behind.  The Fall teaching schedule was so hectic, I just didn't have the energy.
Also I have been knitting on a hat and mitten project for 3 months and just finished it.  I can't show the photos of it until the publisher announces the book (it's a collection of work from many designers).  I don't know when that will be, actually.  But when I do, I'll put the photos up.  My friends are SO thankful that project is done.  I moaned and complained the whole time.  But really, I have only myself to blame for designing something at the ridiculous gauge of 54 sts/4 inches.  Still I finally got into the groove of it and listened to 4 books on tape near the end of the project, trying to finish it up.  I have to say it is some of the best knitting I have ever done in my life.
Today, I received 6 big boxes full of my new DVD.  It has been  a long haul with much blood, sweat and tears, so I am thrilled to have it in hand now.  I spent the day packing up the orders I already have.  After I mail them in the morning, I am going to celebrate!