Throughout most of the year, especially when my teaching schedule is hectic beyond control, a mountain of yarns, papers, bills, color cards, magazines, and other detritus appears on my desk that proceeds to spill onto the floor and crawl out to the living room, onto the sofa, chairs, and coffee table.  The psychic toll this takes on my creativity and organization is immense, yet it becomes so huge that it seems impossible to tackle in a day or two.  So it grows.
My  goal this year is to be able to see the surface of my office floor, desk and coffee table throughout the year.  I am done with resolutions.  They fade quickly.  A goal is something to strive for.  I might meet it, I might not, but any amount of striving will be good.
To kick off the new year, I dedicated more than two days to organizing, throwing stuff out and filing.  I even printed file folder labels on my new label printer just to impress myself with a sense of organization and clarity, since my penmanship has degenerated to that of a seasoned physician.
The state of the room had to get worse before it got better in the process of sorting things out.  Now, I didn't take a before picture, and somehow the photo of the middle of the process (the worst) is now no longer to be found.  Just as well.  I would have been so embarrassed.
So here (deep sigh of relief) is the result of my toil.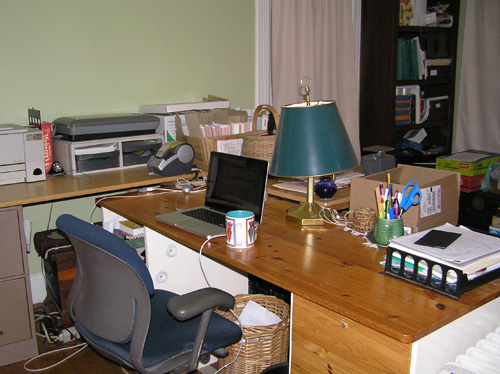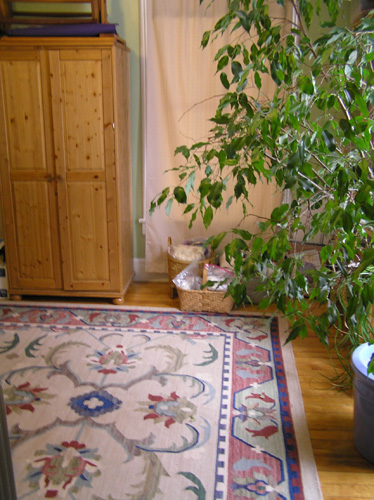 I feel energized by this spaciousness.  Now to keep it that way!
I am busy planning my year of teaching, which will start soon.  But I am distracted by iMovie.  I have had a lot of fun playing with that on my new computer and making up tutorials that I will put up on my website soon (I hope).  I have four movies on YouTube now with two more to process before I need to resume filming.  I am open to hearing any suggestions you might have for tutorials.  I have a list a mile long but may not think of something you would deem pertinent.  Let me know!
Thanks to all of you who have subscribed to both my YouTube movies and to this blog!  If you are interested, you also can subscribe to my newsletter.
Cheers!