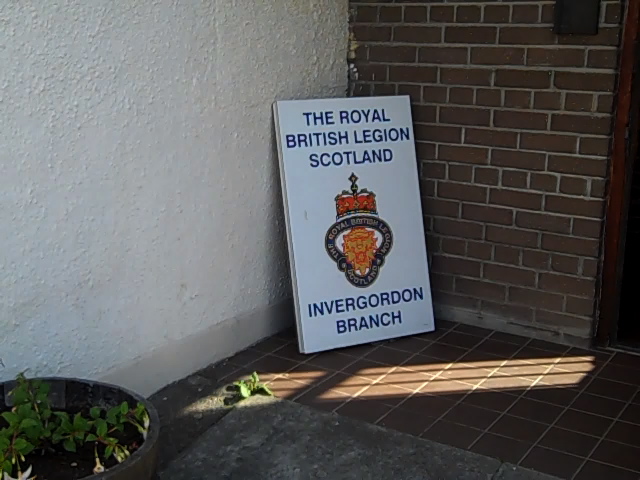 While on my cruise this past summer in August, the ship docked in Invergorden in Scotland.  This is a little town about a half-hour from Inverness.  I was so tired that I decided not to travel far.  I walked off the ship and immediately saw a sign for a craft show.  Never one to pass up a chance  to see crafts, I walked in.
I was so surprised to see several racks of ganseys hanging about as well as a stack of my book Knitting Ganseys on a table.  There were loads of beautiful swatches as well!  I met Kathryn Logan, the director of the Moray Firth Gansey Project. She took this photo of me…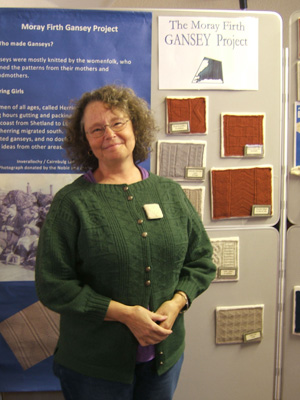 From Wikipedia: Firth is the word in the Lowland Scots language used to denote various coastal waters in Scotland. In mainland Scotland it is used to describe a large sea bay, or even a strait. In the Northern Isles it more usually refers to a smaller inlet. It is linguistically cognate to fjord. Well that explains that!
The Moray Firth is a large bay in Scotland that feeds into Loch Ness where fishing, and knitting ganseys, has occurred for many a year.  The three-year project was formed to try to preserve any garments still in existence, and to foster renewed interest in the motifs, the ganseys, and the heritage of this community.
So, the other day, I received a press release. The Project has finalized its plans for an international gansey competition!  I am so honored to have been asked to serve as one of the judges for the upcoming  competition.  Here is the scoop–please consider entering!
Dear Friends of the Moray Firth Gansey Project,
Here's what you've all been waiting for – the launch of our exciting international competition to design a new gansey pattern for the Moray Firth. Whether you are a master knitter, a complete beginner, a budding designer or simply fascinated with the Moray Firth area, this could be the competition for you.
Many traditional fishermen's ganseys are considered works of art because of their decorative yet simple patterns.  These patterns represented familiar everyday objects, such as ropes, nets, flags, stars, and waves.  What our judges are looking for is an original design that reflects aspects of maritime or fishing life around this beautiful and productive Scottish coastline in the 21st Century.
The competition is split into two sections:
[a] Design a gansey patterned bag (More suitable for inexperienced knitters)
[b] Design a new adult gansey pattern
For full details of this exciting competition plus photographs and traditional patterns take a look at the Project website: www.gansey-mf.co.uk.
The closing date is 4 April 2011 and please pass details of the competition to anyone else that may be interested.
For further information, contact: Kathryn Logan, Moray Firth Gansey Project, The Moray Firth Partnership, Great Glen House, Leachkin Road, Inverness, Scotland, UK 1V3 8NW; e-mail: ganseymf@gmail.com; Tel: (0044) (0)1463 725027 or if outwith office hours Tel: (0044) (0)1463 793948.
Go to the website.  There you will find all the information needed to enter the competition.  This is a DESIGN competition, meaning that it is not expected that anyone would knit a gansey by the April deadline.  Swatches, charts, and descriptions are required for either a gansey or a gansey-themed bag.  Non-knitters are welcome as well to join in!
Stay tuned as I learn more about the event surrounding the competition that will be held this fall called (I just love this): EXTRAVAGANSEY!