Time travel back with me about 17 years ago.  I am teaching at a TKGA conference and I grab a few minutes to go down into the market.  I head for Yo's Needlework Shop (sadly no longer in business) because she has those fabulous Japanese knitting books.  I can't read Japanese but the pictures are so great who needs to?  Yo is very persuasive and talks me into a book that uses a new kind of needle, a crochet hook with a shoestring through it.  The book and needle are shipped to me.  I look at it for a moment, put it on the bookshelf, and forget about it.  I am too busy knitting.
Fast forward to VK Live in NYC this past January.  I have just come out of the market and am waiting for an up elevator.  A long time.  Fortunately.  Because there is a lovely young Japanese woman waiting for a down elevator. She is wearing a soft grey mohair dress of indescribable beauty.  It looks knitted, or crocheted, but not really.  In fact I can't quite figure it out.  She tells me that it is a Japanese technique where you knit up and you knit down.  In other words, in opposite directions.  I am fascinated and my stupid elevator decides to arrive at that moment.  Can you believe I got on it?
Now I am haunted.  I write to a Japanese knitting friend of mine and ask her about it.  She asks about the young woman and asks if the dress she was wearing is grey mohair….
It turns out my friend Mari knows Izumi, the young woman I saw at the elevator, and gave me her web address.  I tried to email her from her blog, not sure if I was clicking on the right button (in Japanese) and she graciously emailed me back and even suggested some Japanese books on the subject:
Japan Amazon– basic books
Japan Amazon– more advanced book
Izumi said, "The stitches you saw on my mohair dress, is not on any of those books because that was created by my Ipponbari teacher pretty recently.  With this needle you can combine stitches of knitting, crochetting (Tunisian as well) and other unique stitches, so we are exploring more and more possiblity of new stitches right now. I'd love that someday Ipponbari books will be published in English though."
Here is a photo of the fabric of the mohair dress.
Here is Izumi's blog of her past projects. What a variety of knitting techniques: mitered squares, gloves, lace, you name it!  Here is a blog about it from Rhonda, an American, where this technique is called "Knooking".  She has a 15 page PDF download on her Etsy shop that will get you started. There is even a Ravelry group devoted to Knooking.  Who knew?
I have started a little project, a cotton bag, from a pattern in some of the papers included with my book I received so long ago.  I will post more photos as I progress so you can check back!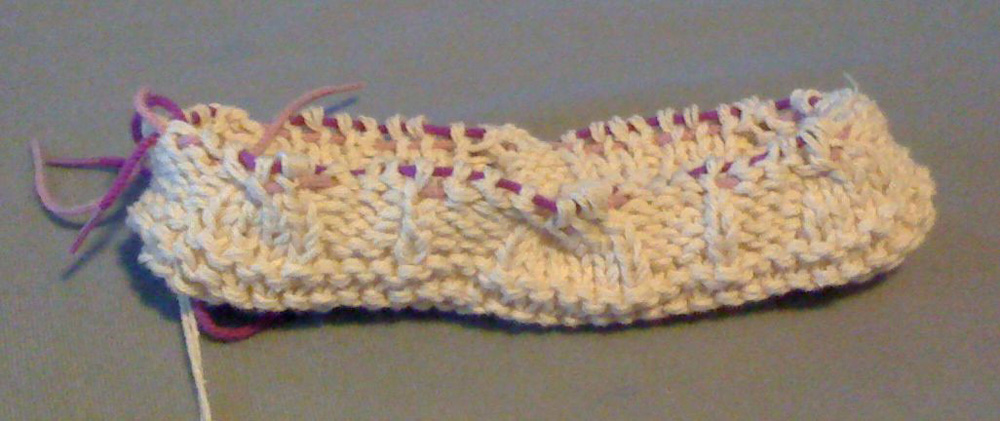 You can see two shoe strings in the "knooked" fabric.  I am about to take out the light pink one, having just finished a round with the dark pink one.  I have worked garter stitch, columns of purls and knits, and cables.  It's time for the beads.  Don't look TOO closely, there are mistakes.  Now I am off to Stitches.  More later!