Mr. FedEx Man came by today and dropped off a package from Interweave Press.  I have been waiting for it.  It contained the fingerless mitts I sent them months ago, a check (YAY!), and two copies of the latest issue of Knitting Traditions, Interweave's new magazine.  (I know I have heard of that name before…)   But to my surprise, the mitts made the cover!  I am so proud!  It's a lovely photo (thanks to Joe Coca who always does a fabulous job).  It is a wonderful issue, chock full of beautiful designs.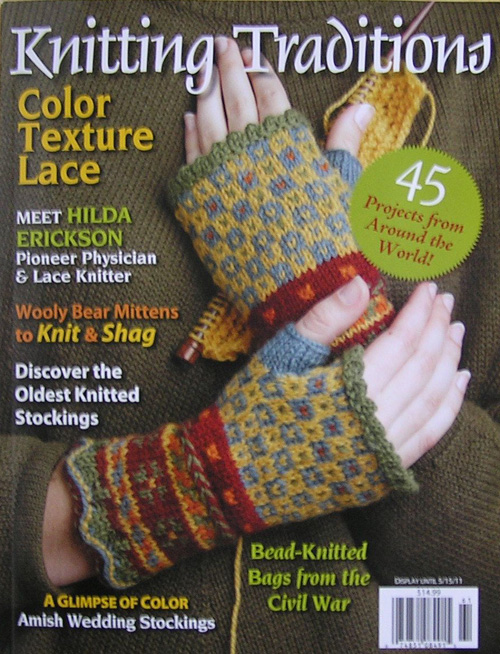 I am working on another design for the next issue, since this magazine happens to be right up my alley…
And I have decided to move my blog.  That seems scary, but I want more functionality than I have right now.  So for those of you who have subscribed to the blog, you will probably have to re-subscribe.  (Sorry!)  And for those of you who have bookmarked my blog, you'll have to do that all over again. I hate to cause this upheaval, and I hope it will be worth it in the end.  Where am I moving it?  To my website. Not too hard to find! When am I moving?  Not sure yet.  Most likely this month sometime…
It has been the snowiest winter yet since I moved to Vermont.  Here is what I see when I look out my kitchen window: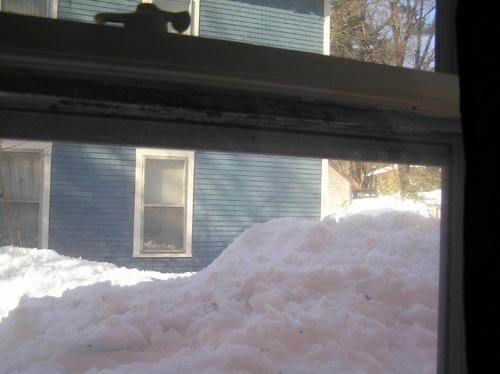 I am beginning to get ready for Stitches West.  That means packing the suitcase, dumping it out to be sure I packed everything, and packing it all over again, printing handouts, getting bills paid  and groceries bought (for my daughter) before I leave.  I am looking forward to a fun time there.  I hope to see a bunch of you!  And, honestly, it will be an awesome break from the Vermont winter being in the California sunshine!