Friday morning I was up early to give my presentation on my Long Distance Gansey Knit Along series.  I was pleased with the turn out of yarn shop owners and of their response.  If you read this blog, but don't subscribe to my newsletter, you probably don't know what the heck I am talking about.
In a nutshell, I have devised a learning program that integrates my DVD chapters as lessons with some of my gansey patterns so that shop owners can teach the necessary skills within the context of a 10 to 12 week Knit Along.  I supply a syllabus and other supporting materials and I Skype in a couple times during the class.
Anyway, after I checked in with the Up North Fiber Art Supply booth, I went wandering and came across a vendor who was selling a new DVD featuring none other than Barbara G. Walker, author of all those incredible books full of knitting stitches (scroll partway down to the bottom of that web page to see her books)!  I asked a couple questions, and the vendor said, "Would you like to talk with Barbara?"  And there she was!  I felt a stupid expression creep onto my face and I was a goofy awe-struck knitter in Her Presence.  I got her autograph, but didn't think to ask anyone to take a photograph of us together.  Fortunately, my friend JoLene Treace, designer extraordinaire wearing one of her lovely lace designs, was thinking more clearly and got a photo of herself and BGW.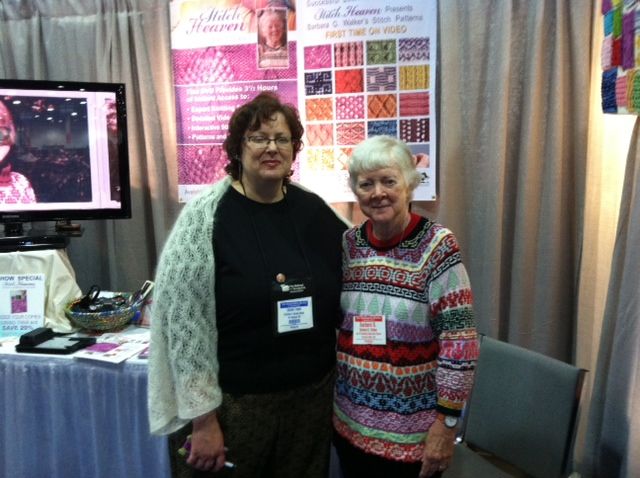 The DVD is available from Stitch Heaven and is called (I think) StitchHeaven salutes Barbara G. Walker.  It is 3.5 hours long!
Here are some other things I saw on my wanderings around the show floor…
Knit Outta the Box offers some really interesting yarns.  One in particular is called Cotton Sifa and is 95% Turkish cotton, 5% silver.  Yes, silver.  It feels so cushy and I can't wait to swatch it!  The yarn is almost braided.
I also stopped by the O-wool booth.  I love to use their yarn especially when I am knitting a baby gift, because all their yarns are organic.  They have six different yarns.  Here is one of them…
Next, I met the woman who invented Fix-a-Stitch.  This tool is really clever and she told me she thought it up when she was 12 years old.  Now in her 60's, she is finally getting a patent on it.  If you visit her website, you will see videos on how to use the tool.  It comes in a package of 3 sizes.  You can see one of the videos below.
Fix-A-Stitch Instructional Video
Moving on, I came to the booth of the Fiber &Fabric Mania Travel Guide.  This book is compiled anew each year to list all the shops that carry yarn, quilting, needlepoint, weaving, spinning, and/or cross stitch/embroidery.  Mr. Merin, who helps his wife to put the book together generously gave me the new 2011-2012 edition.  You can get this book at your LYS or order it here.
I was excited to find a wool mill that makes WORSTED spun yarn! Stonehedge Fiber Mill in East Jordan, MI has lovely yarns! It is a full service mill that cards, spins, and skeins wool, alpaca, and other fibers.  I was impressed with the Shepherds Wool yarn they are now creating. The website shows their worsted weight, but I was told they are expanding the line to other weights.  I love worsted spun yarns because they tend to resist pilling and last longer than woolen spun yarns.
I passed the TKGA booth (The Knitting Guild Association) and saw Arenda Holiday there.  Arenda is very active in the guild, particularly the Master Knitters program,  and responsible for raising the bar for knitters everywhere.  If you see her knitting, you know what I mean.  Here is her design she calls Winter.  I think she said it was knitted at 12 stitches to the inch out of the same lovely silk wool yarn from RedFish Dyeworks that I used for my Sunnhordaland Set I blogged about several months ago.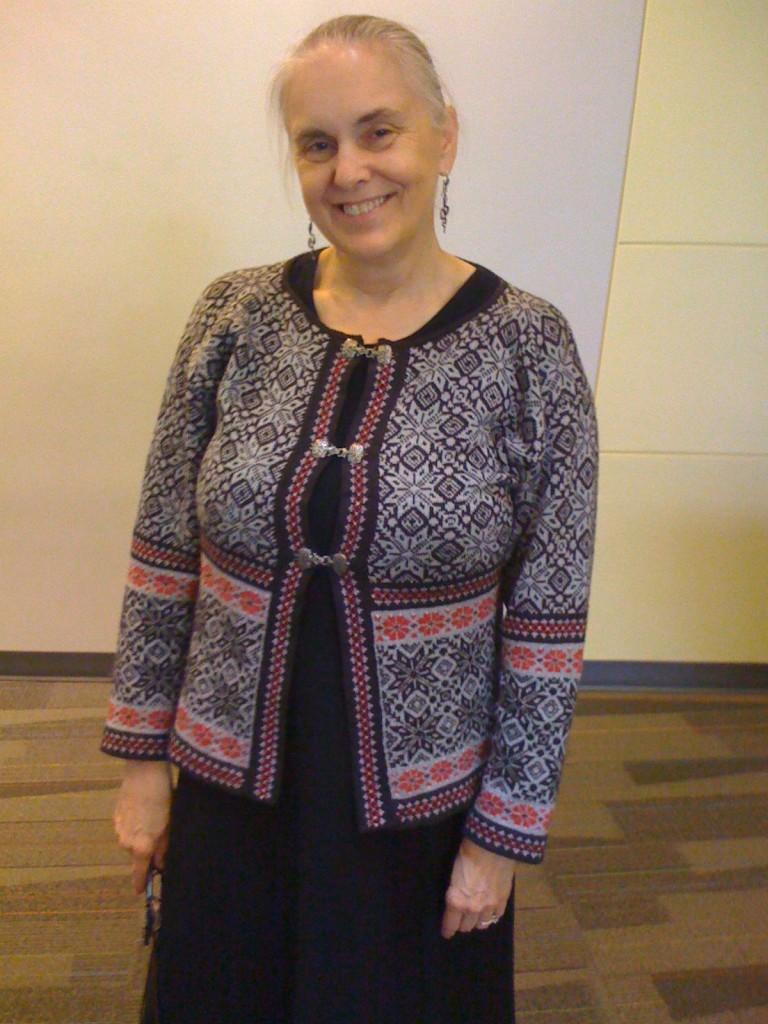 After the show on Friday, I gathered my things to set up an exhibit of my litttle sweaters for the Teacher Meet and Greet.  That was fun, talking with all sorts of people–former students as well as yarn shop owners who had never heard of my work.
It was a full day and I slept very well that night!