I am thrilled to be going on a 14-day cruise in 2018,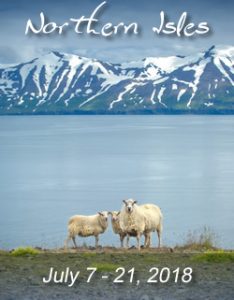 from July 7-21!   I love traveling on the Holland-America ships.  They are midsize (about 1200 passengers and 800 crew), not like those enormous 4400 passenger ships.  The food is good and there are many things to do for non-knitters (sometimes string quartets play in the evening, movies, the casino, and my favorite: high tea)!
Set sail July 7-21, 2018 on Holland America's Zuiderdam cruising round-trip from Copenhagen. Join other knitters on this voyage visiting popular ports in Norway, Iceland, Faroe and Shetland.
On this cruise I will be teaching some of my popular classes such as Traditional Beginnings (a historic cast-on class), Twined Fingerless Mitts, Fair Isle Tams and Norwegian Mittens. In addition to the distinctive knitting techniques found here the Northern Isles are in a region of the Atlantic Ocean known for its rugged coastlines and cool summertime temperatures. Join fellow knitters on this journey and you'll keep cool while stimulating your creativity.
For more information, you can contact Melissa of CraftCruises.com by emailing her or calling her:   (877·972·7238).   Please give her my teacher code: R0805-U21094.
I hope you'll join me!  We'll have a lot of fun! Check back soon for the detailed itinerary!
2018 Northern Isles Knitting Cruise – Highlights
Be inspired by top Danish designers in Copenhagen and shop for yarn at Sommerfuglen, Denmark's largest yarn shop.
Take a private historical walking tour in Copenhagen with an outstanding local historian.
Take a tour of the Oleana Sweater factory, located on a scenic fjord near Bergen, and shop for sweaters in the factory outlet.
Visit the Dale of Norway sweater store in Bergen.
Shop for yarn at Husfliden, Norway's hand-craft guild store while admiring their selection of fine traditional Norwegian costumes.
Shop for Icelandic wool and popular kits at Klæðakot in the beautiful town of Ísafjörður in northwest Iceland.
Enjoy a Wild & Woolly Tour of Reykjavik combined with the top highlights of Iceland's famed Golden Circle.
Visit Alafoss where you can shop for Lopi yarn and gorgeous hand-knit sweaters.
Take an Icelandic knitting workshop led by Guðrún "Hannele" Henttinen at her yarn shop, Storkurinn, in the heart of Reykjavik.
Learn about the wool industry in the Faroe Islands while shopping at Navia in Torshavn.
Visit the Shetland Wool Brokers, Jamieson and Smith, to shop for yarn and learn about the 700 knitters, farmers and designers who transform Shetland's wool into high quality yarn, knitwear and blankets.
Visit the Shetland Museum for a private museum tour with an emphasis on Shetland lace.
See demonstrations of traditional spinning and knitting given by the Shetland Guild of Spinners, Weavers, Knitters and Dyers at the Böd of Gremista and Shetland Textile Working Museum.