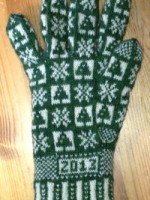 Sanquhar (pronounced "Sanker") Gloves have captivated the Scottish and non-Scottish alike since the late 1800s when they were first created.  These gloves were favored for riding and driving horses, playing the sport of curling, and looking fashionably smart as well. Several classic patterns have survived, most notably the 'Duke' and 'Prince of Wales'.
The architecture of these wonderful gloves is fixed: one column for each side of the fingers and thumb, with a third column for width. This grid was referred to as the dambrod.  Little gussets, called fourchettes, are knitted between several of the fingers to enhance the fit.  Within each square of the pattern, the imagination can take flight, filling it with all sorts of geometric motifs.  Pine trees and snowflakes came to my mind on a snowy day one winter and this pattern was born!
Finished Sizes
Child's Medium (Child's Large, Woman's Small/Medium, Woman's Large/Man's small, Man's Medium,  Man's Large):
6.5 (7, 7.25, 7.75, 8.5, 9.5)" hand circumference
7 (7.5, 7.75, 8.25, 9, 10)" glove circumference
Gauge
Altering the gauge, by changing the needle size and perhaps the yarn weight, is the only way to adjust the sizing.  Each size has its own gauge.  The pattern includes a table giving an approximation of the needle sizes and gauge.  However, a gauge swatch is essential!
26 to 18 sts = 2″/5 cm in two-color St st with fingering weight yarn
Winter Sanquhar Gloves
8.00

Materials
Yarn: Upton Yarns (uptonyarns.com) Cotswold x Romney Fingering Weight (25g balls/105 yards) in:Pine Green (MC): 2 (2, 2, 3, 3, 3) skeinsNatural (CC): 2 (2, 2, 2, 2, 2) skeinsAlternate yarns: A heavy fingering or light sport weight yarn can be used for the larger sizes.
Needles: One set of five 7" long (or shorter) dp needles in the size needed to obtain the gauge for your hand circumference (see table on page 2).
St markers, sticky notes or magnetic board to aid in reading the chart, tapestry needle, waste yarn or stitch holder, tape measure.